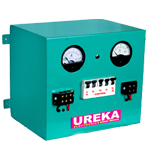 Applications of 'Huzza' Battery Charger :
Beneficial for battery shops.
Useful for automotive and inverter battery charging.
Features of 'Huzza' Battery Charger :
No need to set battery output voltage.
Recover ZERO gravity battery in less time.
All double rated component used in product for reliability and long life.
Proven technology: Constant-Current Control.
Latest cerectifier / SCR technology for switching.
Very compact size / light weight, wild input range (12V, 24V, 36V, 48V, 72V,
96V, 120V, 144V, 180V, 192 Volts)
Highly efficient / cost effective / easy to connect / Inbuilt battery blocking diode.
.
Constant-Current characteristic for battery charging application.
Output current adjustment is available from 0 to 15A in the slab of 5A.
MCB for input protection and on/off purpose.
Master-Slave operation with equal voltage and current sharing.
Special Features of 'Huzza' Battery Charger :
Class-F insulation for all magnetic.
Automatic voltage regulation using digital control logic.
Filter circuit to limit ripple.
Programmable (MCB Switch) output current can be programmed to 5A, 10A and 15A.
Technical specifications of 'Huzza' Battery Charger :
INPUT
AC input range
130v AC to 300v AC (single phase). Our wide range for 230v AC input.
Frequency
47 to 63 Hz
Input Protection
Internal AC fuse as a MCB
EMI compliance
Inbuilt RFI/EMI filter provided
Hold up time
20 m sec @ minimum AC input
Protection
MCB protection and on/off
OUTPUT
Voltage
Internally programmed, adjustable, external control as required or according to your battery requirement(0v to 192v max) of 16 batteries.
Current
Current can be externally programmed or adjustable.
O/P Power
2880 W (Max)
Regulation
± 0. 5% line and load.
Output ripple and noise
Less than 1% pk-pk
Protection
O/P over load & short circuit.
Indication
1 High Quality Analog Panel Meter with Neon lamp to display Input Voltage and Output Current.
Working temperature
(-)15c to (+)85c and ambient temperature.
Comparison with Conventional Battery Chargers :
Parameters
Huzza
Conventional
AC input range
130v AC to 300v AC
200v AC to 240v AC
Battery Voltage
No Voltage Settings
Voltage Settings required everytime
Gravity Recover
0 to 1220 in very less time, without heat
Minimum 48 Hrs
No of Batteries Charged
1 to 16
1 to 6
Price
Rs. 6500/-

(Conditions Apply)

Rs. 8000/-
Service
Onsite
Carry In
Others
Easy to connect, Light Weight, No need of Technical Knowledge
Very Bulky, Qualified Technician required for operating