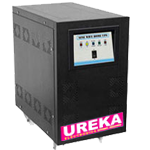 Features of Ureka Home UPS :
Micro controller based card.
Instant switch over for computers and DVD system to run uninterrupted during power cut without any rebooting.
Mains Low / High cutoff.
Low Battery, Short Circuit, Over Load Protection.
Provide long back-up of the personal computer.
Suitable for personal computer and for power back up for home.
Overload and short circuit protection without auto reset.
Technical specifications of Ureka Home UPS :
Type
Digital Home UPS
Technology
Micro-controller based
Ratings
875 VA
2000 VA / 2 KV
2.5 KV - 3.5 KV
INPUT PARAMETERS
Input Supply
1 Phase, 3 Wire
Input Voltage
(Toggle switch towards Inverter mode)
105V - 290V ± 5V
Input Voltage
(Toggle switch towards UPS mode)
185V - 265V ± 5V
Frequency Range
47 - 53 Hz
OUTPUT PARAMETERS
Output Voltage Regulation
210 - 240V
Output Frequency Regulation
50 ± 0.1Hz
Output Waveform
Modified Square Wave
Crest Factor
3:01
BATTERY PARAMETERS
Battery Type
100 to 200AH
100 to 200AH
100 to 200AH
Battery Voltage (Nominal)
12V
24V
48V
IN Normal Charge Mode
9 ± 1.0 A
9 ± 1 A
9 ± 2.0 A
IN High Charge Mode
9 ± 1.0 A