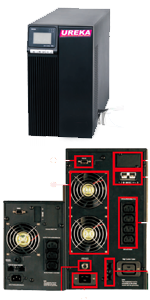 Features of Ureka Online UPS :
High frequency and double conversion online.
Fully digitized microprocessor control.
Wide input voltage range.
LCD display.
UPS start up without battery.
Cold start.
Advanced battery management.
Automatic battery charging in UPS off mode.
Lightning and surge protection.
Short circuit and overload protection.
Fan speed auto control when loads varies.
Optional extension battery pack.
Battery voltage display.
Load capacity display.
EMI/RFI noise filter.
Smart RS232 with monitoring software.
Optional SNMP card slot.
Technical specifications of Ureka Online UPS :
CAPACITY
1KVA / 700W
2KVA / 1400W
3KVA / 2100W
5KVA / 4000W
Input
Voltage Range
When load is < 70%, input range is 115±5VAC ~ 295±5VAC
When load is >= 70%, input range is 160±5VAC ~ 295±5VAC
Frequency Range
46~54Hz ±0.5Hz or 56~64Hz ±0.5Hz Auto Sensing
Phase
Single Phase
Power Factor
>= 0.97
>= 0.8
Output
Voltage Range
220 / 230 Vac ±2%
Frequency Range
Synchronized with the utility on AC Mode, 50Hz/60Hz ±0.2% on Battery Mode
THD (linear load)
< 3%
THD (non-linear load)
< 6%
Overload Capacity
> 110%, 30s turn to bypass mode; > 150%, 300ms turn to bypass mode
Crest Factor
3:1 (max)
Short Circuit Protection
5 cycles turn off inverter, no transfer to bypass, provide alarm (AC Mode)
5 cycles turn off inverter, provide alarm (battery Mode)
Input fuse blown or breaker action (bypass mode)
Wave Form
pure sine wave
Transfer Time
Between AC Mode and Battery Mode : 0ms
Between AC Mode and Bypass Mode : 4ms (typical value 2.5ms)
Efficiency
>= 83%
>= 85%
Battery
Model
12V sealed lead acid maintenance free
DC Voltage
36VDC
96VDC
144VDC
Battery
Use external battery from 7AH to 150AH
Backup Time (Full Load)
From 30 mins to 9 Hours depending on battery AH
Charge Current (Standard Unit)
1A
1A
1A
1A
Charge Current (Long Time Unit)
7A
7A
7A
7A
Recharge Time
90% capacity after 8 hrs charging
Communication Interface
RS232; SNMP (Optional)
LCD Indication
1. Input Voltage Frequency, battery voltage, output voltage frequency, load Watt/VA and percent, Inverter Temperature
2. Operation Mode such as 'On Line' or 'On Batt' or 'On Bypass'
LCD Indication
1. GREEN LED for Normal Operation
2. YELLOW LED for Warning Condition
3. RED LED for Abnormal Operation
Noise Level
< 45dB
Environment
Temperature
0 ~ 40C
Humidity
0 ~ 95% (non-condensing)
Altitude
< 1500m
Storage Temparature
-25 ~ 50C
Other
Standard Unit Net/Gross Weight
14/16 Kg
33/35 Kg
35/37 Kg
69/75 Kg
Dimensions (WxDxH) mm
144x419x215
483x520x133
483x520x133
560x380x760