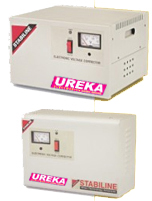 Features of Automatic Voltage Corrector :
Transistorised / IC controlled electronic circuit for increased reliability, easier servicing.
High quality transformer ensures less heating and enhanced life of Voltage Stabilizer.
Constant display voltmeter, continuously indicating output voltage.
Fully automatic, requires no routine manitenance.
Ureka Electronics with its superior circuit design consumes lesser power compared to other brands, as provided in tests carried out under laboratory conditions.
Optional Features of Automatic Voltage Corrector :
Low & high voltage trip for Refrigerator, Air Conditioner, T.V., Deep Freezer and Stereo System are available.
Time delay realy mode's are also available.
Overl load protection through MCB.
AM-meter with/without switch.
Technical specifications of Automatic Voltage Corrector :
INPUT VOLTAGE RANGE
160-260 V/140-280 V/110-270 V/90-270 V
OUTPUT VOLTAGE RANGE
220+-10%
CAPACITY
MAX LOAD (Amps)
APPLICATIONS
0.24 KVA
1.0 Amps
TVs, VCRs, Music System
0.5 KVA
2.0 Amps
Refrigerators upto 300 Litres, Water Coolers, Deep Freezers witH 1/8 HP Compressor
1.0 KVA
4.0 Amps
Water Coolers, Bottle Coolers, Deep Freezers incorporating upto 5/8 HP Compressor, Refrigerators above 300 Ltrs Capacity, BOD incubators, other refrigeration & airconditioning appliances incorporating upto 5/8 HP Compressor.
3.0 KVA
12.0 Amps
1 Ton Air Conditioners, Water Coolers, Refrigeration and air conditioning appliances incorporating upto 1.5 HP Compressor
4.0 KVA
16.0 Amps
1.5 Ton air Conditioners, Refrigeration and Air conditioning appliances incorporating upto 2.5 HP compressor
5.0 KVA
20.0 Amps
Amps 2 Ton Air conditioners, Refrigeration & air conditioning appliances incorporating 3-5 HP Compressor
7.5 KVA
30.0 Amps
10.0 KVA
40.0 Amps
Technical Specifications Three Phase Units (Unbalanced type): :
| | |
| --- | --- |
| INPUT VOLTAGE RANGE | 400V _+10% |
| OUTPUT VOLTAGE RANGE | 220+-10% |
| CAPACITY | 3 KVA to 30 KVA |
| MAX LOAD | 12 Amps to 120 Amps |